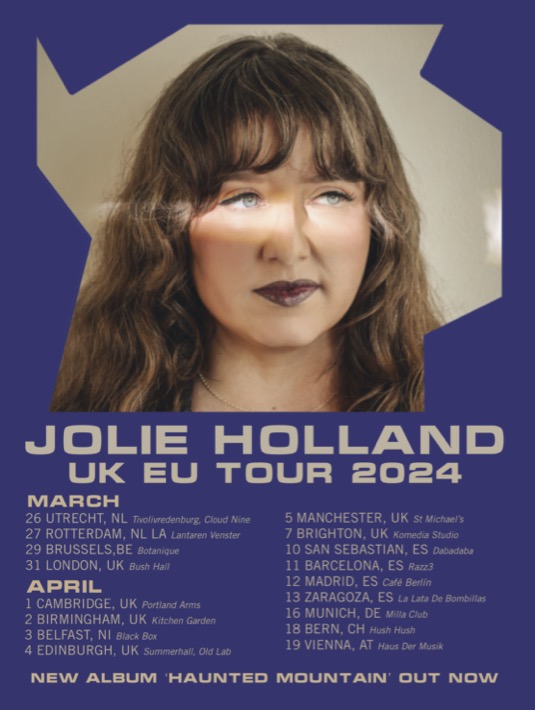 Jolie Holland UK/EU Tour 2024
EUROPEAN & UK DATES, Spring 2024
26 March Utrecht, Tivoli Vredenburg (Cloud Nine) – Tickets here
27 March Rotterdam, Lantaren Venster – Tickets here 
29 March Brussels, Botanique – Tickets here 
31 March London, Bush Hall – Tickets here 
1 April Cambridge, Portland Arms – Tickets here
2 April Birmingham, Kitchen Garden – Tickets here
3 April Belfast, Black Box – Tickets here 
4 April Edinburgh, Summerhall- Tickets here
5 April Manchester, St Michaels – Tickets here 
7 April Brighton, Komedia Studio – Tickets here
10 April San Sebastian, Dabadaba – Tickets here
11 April Barcelona, Razz 3 – Tickets here
12 April Madrid, Cafe Berlin – Tickets here
13 April Zaragoza, La Lata De Bombillas – Tickets here
16 April Munich, Milla Club – Tickets here 
18 April Bern, Hush Hush – Tickets here 
19 April Vienna, Haus der Musik – Tickets here
(25 April Copenhagen TBA)
Jolie Holland is now on Patreon!
Now you can join my Patreon and have access to unreleased tracks and patron-only content every week! New songs are added every Monday, other content on the first of the month.
I became a worker in song so that I could participate in the mysteries. I wanted to be an alchemist: take the raw experience of life, and transform it into magic spells for perseverance, energy, flight.
I started doing this for myself, but then other people began to make use of my work as well. I am so honored that people have incorporated my music into their lives: People have told me how they've used my music to help themselves feel, heal, love, grieve, celebrate, dream and imagine.
I'm doing this for you, and for us. It's impossible for me to do this work without support. Thank you for keeping this music alive.