Sarah Nighswander is really one of the best fans I've ever had. I remember her and her girlfriend coming to my shows in San Francisco in the early days, two beautiful and stylish presences in the crowd. We had friends in common, and I was eventually invited over to their house for dinner. I was incredibly shy and weird. I remember I put on eyeliner before we went over to their place, and I spent the entire evening feeling self-conscious about wearing makeup (which I didn't used to wear in those days.) My friend made fun of me later, which helped a bit. I was being ridiculously shy. It was the first moment that fans had been personal with me in a positive way. Up until then, my only interactions with people regarding my music were people I already knew, or strangers in a bar just saying this or that about what I was doing musically.
Sarah is an amazing cook, a great writer and a real comic genius. She keeps one of the coziest houses of anyone I've ever met, so to be invited to her parties and to be welcomed into her spaces (she kept moving around the Bay Area) was a really positive addition to my life. I'd been a bit of a vagabond up until that point in my life, and Sarah inspired me to bring more peace, coziness and a sense of sanctuary to my spaces. Sarah's scene was really literary and artistic- people would read poetry at their get togethers, and share work. Sarah had a dance troupe that was equal parts mystical and comedic. I remember Sarah reading long stretches of Sylvia Plath, or her own chapters aloud. It was through Sarah that I met the great Sini Anderson, the poet and film director who would go on to make The Punk Singer as her first film. Sini shot my video for 'All Those Girls' when we both lived in New York City. Sini's working on a powerful feminist documentary about Lyme's disease right now.
It was because of Sarah repeatedly asking me to play Mexican Blue that I didn't let that song disappear. I was critical of the song, perhaps because I'd only put fifteen minutes work into it. I guess I thought it wasn't strong enough. I'm so glad Sarah kept requesting it at shows. She helped me see that you aren't always the best judge of your work.
When Stoney Sharp cut this video for my song Mexico City, I had no idea what a luxury our budget was. It was just before the market was going to crash in '08, to further decimate the music business, and put my musical career in peril. We flew my friends and I out to Joshua Tree to shoot it. Sarah's carrying the horn. The beefcakey dude here went on to be expelled from my circle of friends by multiple nefarious deeds. The beautiful taller man was my boyfriend at the time, gorgeous multiinstrumentalist Jason Leonard who runs an antique poster restoration business called The Affiche Studio. Carey Lamprecht is the taller woman with the long hair and her violin. Carey's a civil rights activist in San Francisco. She was just elected to the board of the Bay Area chapter National Lawyers Guild. I am so proud of her. The woman in the green dress is the fantastically talented Rachel Blumburg who was in my band at the time.
I have so much more I could say about this video: the altar to the dead is real. We placed portraits of our dearly departed there and got their smokes and booze or their favorite things to eat. I put Blind Willie MacTell, Mississippi Fred McDowell, my departed friend Buddy (as in my 'Corrido por Buddy,' and Townes Van Zandt on that altar. Here's a stunning print Carey Lamprecht made of TVZ: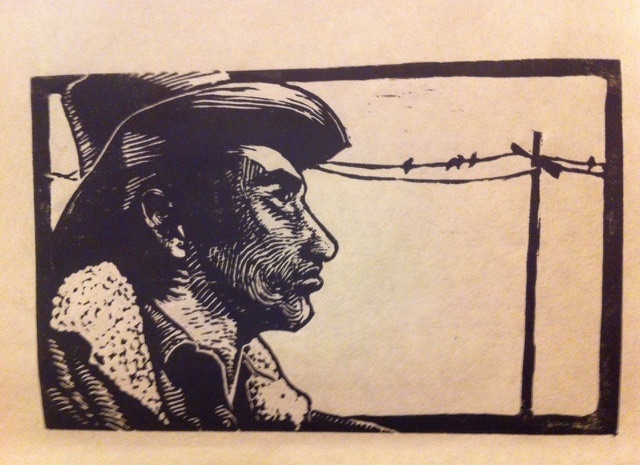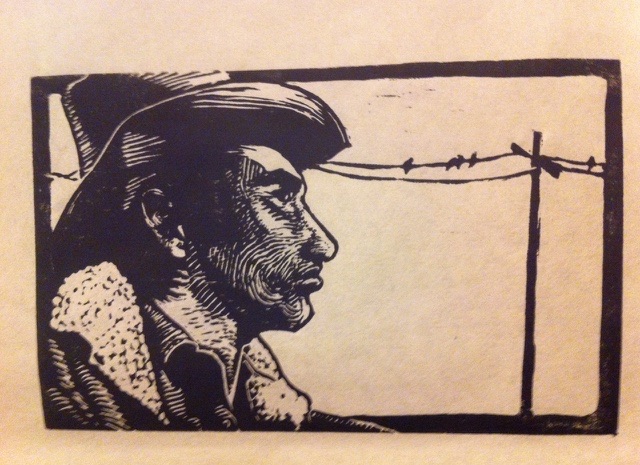 Just like in the old days, I was feeling weird about wearing all that stage makeup in this video. Like Daniel Johnston says, I'm a sorry entertainer.
Thank you, Sarah, for being the best kind of fan (who saves my songs from my own brutal criticism) and for being such a wonderful friend.