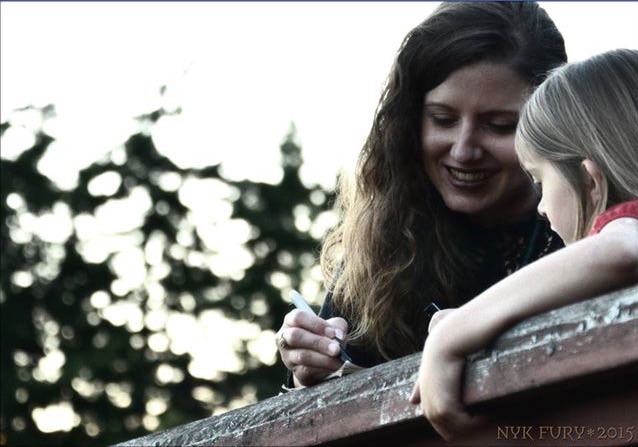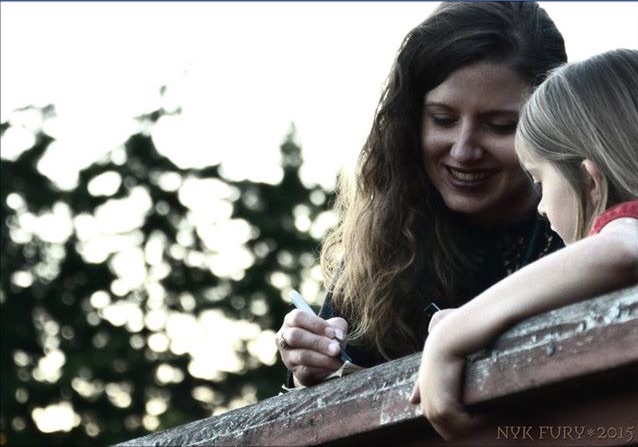 This last summer, a wonderful lady named Oceanna Van Lelyveld set up a show for me at a great rural space in Port Townsend called the Palindrome. Our show there was the first in a long while. The venue was previously run by the Flying Karamazov Brothers and many years before it had been a dance hall where Ellington played. We were so happy to be there in the community to warm up the space again, and to share such a hallowed stage.
A little girl came up to me right before we were going to play. I wasn't sure if she wanted to talk to me because she kept her distance. She was too shy to say anything, and I was stage frighty. Took us a minute to speak. But she finally asked me to sign her 1980 something 'Pupple' magazine of fake dog celebrities like Princess Fi and Mick Wagger. A guy who goes by Nyk Fury happened to snap our picture at that moment. I'm really surprised I found this photo later on. I came across it by sheer kismet. Nyk captured the moment when I was doodling reindeer horns on Barkla Streisand, who was a cute Afgan hound.
After the show the little girl dreamed that I showed up at her place nude on a motorcycle. In dream logic, I was really her mom's mom, and we three swam across the bay together.
This little girl is the star of our fourth meta-fan monday. Her mother emailed me a few days after the show to tell me about my cameo in her daughter's dream. She also told me that it was strictly the little girl's idea to get me to sign 'Pupple' magazine. Brilliant. Out of respect for her young age, I won't post her name here.
Dream on. Dream on. I love it.